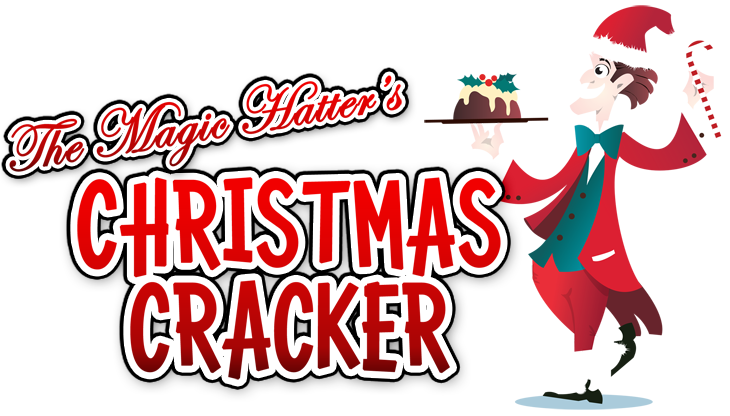 Why book a regular magic show over the festive period, when you can have a fully themed Christmas show that's guaranteed to get everyone in the holiday spirit!

Join The Magic Hatter in a seasonal extravaganza exploding with comedy, magic, storytelling, illusions and more surprises than in an elves workshop. Plus, guest star Frostbite the Penguin - Hatter's feathered friend direct from the North Pole! All performed to Christmas music old and new, helping create that special holiday atmosphere....'yule' love it!

Christmas entertainment can be booked for a wide variety of events, and we also hold annual public Christmas magic shows at a York theatre. Details for these can be found by clicking here.

Below are just a few examples of the Christmas magic tricks in our spellbinding seasonal shows...
Frosty the Snowman is built with the help of someone from the audience, in a hilarious routine full of comedy
A penguin helps to bake a Christmas cake with some unusual ingredients (and a sprinkling of magic!)
A word is predicted from A Christmas Carol, and a lump of coal appears in Scrooge's nightcap
A chosen card is caught on the end of a giant candy cane
A Christmas tree grows, Santa's milk disappears, Rudolph's carrots multiply, water turns to ice, presents appear in a stocking and much more!
An 8ft North Pole is pulled out of a top hat, as well as fairy lights, streamers, beads, tinsel, six alarm clocks and a turkey!

"Thank you so much for running your exciting Christmas magic parties for us, the children all had a fantastic time, they were truly spellbound throughout. The tricks were all performed beautifully, with plenty of help from the audience, and the Magic Hatter himself had a lovely rapport with the kids and even kept the adults entertained with his jokes! It was a great way to get us all in the festive spirit! Merry Christmas!"
Kate Smithson, Marketing Manager, Grand Opera House York
"We would like to express our appreciation and thank you for coming to our Christmas party, you made little Emily's day - it was the first time she has laughed and giggled all week and her dad was truly grateful."
Jill Edwards, Play and Activity Leader, Doncaster Children's Hospital
"Just want to say thank you so much for the Christmas entertainment, the parents and kids loved it!"
Michelle Murray, Tang Hall Primary School, York
"Excellent xmas show - my kids - 4 to 12 had big smiles on their faces. A lot of time and effort went into the show and the professionalism showed. A benchmark in children's magic stage shows."
Mark Foster, Riccall (audience member)
"Thank-You for entertaining our children and the staff aswell. We all absolutely enjoyed your show, we have never seen the children laugh as much as they did during your show, it was very mesmerising for them, even some of the magic baffled me and my staff. I could go on and on writing an essay about how good we think you are at your job but I won't bore you, so once again a MASSIVE thank-you from Poppleton Road Playgroup children and staff."
Diane Whitworth, Playgroup Supervisor, Poppleton Road Playgroup, York

December is our busiest time of the year, so early booking is strongly recommended to avoid disappointment!